THERAPI FEATURED ON BLONDE MALE BLOG
Added on 11th June 2018
Blogger, The Blonde Male, reviews THERAPI products the Brightening Cleanser, Repairing Conditioner and Matt Styler.
The blogger said he was so impressed by the The Brightening Cleanser, and said 'Purple shampoos can sometimes leave the hair a little dry, but i was so impressed on how well the hair felt moisturised, while also feeling stronger thanks to the keratin amino acids that are included in the formula. Coloured hair can instantly lose its vibrancy, especially if you are using the wrong products, each time the brightening cleanser is applied it prevents colour fade thanks to its sunflower seed technology.' The Repairing Conditioner 'targets heat damage and chemically processed hair to offer a solution to any distressed or damaged hair. Strengthening using protein based technology, while also being pH balanced for increased care, the repairing conditioner is a must-have in your hair care regime. Applying to wet hair and leaving for 1-2 minutes to enjoy the luxury scent, hair is transformed throughout the rinsing stage. Restored to its former glory by feeling stronger and perfectly moisturised like you have applied a mask, i highly recommend the product if u colour your hair and use heat styling tools regularly.' and lastly the Matt Styler, 'is suitable for all hair types, to create a mattifying medium hold for your or any hairstyle you wish to create. Applying to damp or dry hair, the beeswax and microcrystalline waxes create texture and matt definition, without any heavy build up you can experience when using styling products.'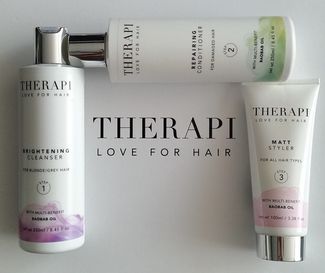 You can read the full review at the following link.