THERAPI FEATURED ON LIFE AND STYLES OF KLF BLOG
Added on 8th June 2018
Blogger, Life and Styles of KLF, reviews THERAPI products the Signature Cleanser, Strengthening Conditioner and Smoothing Cream.
The blogger says the Signature Cleanser 'is for any hair type and has hair strengthening and moisturising properties to it.' The Strenghtening Conditioner 'is slightly different as it is a leave in conditioner. I spray it onto my towel dried hair from root to tip and it is meant to strengthen my hair as well as offer extreme heat protection up to 250 degrees and UV protection which again I need due to the roaccutane. No need for extra heat spray when using this, and it has the benefits of strengthening and conditioning also so it is a no brainer to chuck your conditioner and your heat spray for this one product.' and lastly, the Smoothing Cream, was her favourite as 'I had no frizz even when in Vegas and my hair felt more smooth and manageable. Basically I had great hair days when in the US every time I used this as the last step.'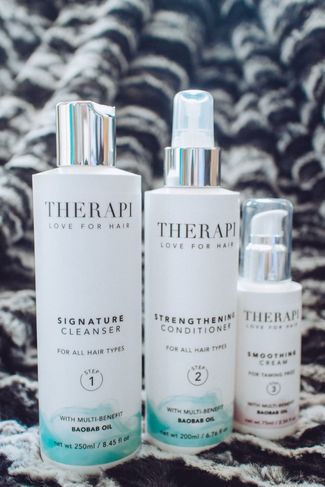 You can read the full article at the following link.