THERAPI FEATURED ON LUKE HEYWOOD STYLE BLOG
Added on 22nd June 2018
Blogger, Luke Heywood Style, reviews THERAPI products, the Signature Cleanser, Moisturising Conditioner and Smoothing Cream.
The blogger says the Signature Cleanser 'You don't need a lot as it does lather very well. The cleanser doesn't strip the natural oils from your hair which is a very big benefit of using this cleanser. It's enriched with a gorgeous smell that I just can't seem to put my finger on what it is. However, all day I could smell my hair and it smelt amazing. The Moisturising Conditioner 'Having curly hair, my hair needs double the conditioner, very greedy I must say. Lathering the conditioner into my hair, again you don't need a lot. Again, it has a gorgeous smell just like the cleanser. In addition to this, the conditioner also boasts the same properties as the cleanser. Keratin Amino Acids to strengthen hair, Paraben and Sulphate free, Panthenol vitamin B5 for added shine, Sunflower seed colour lock technology to prevent colour fade. After using the conditioner I could already feel a difference to my hair. It didn't feel matted or tangled which is a big plus for me. It left my hair feeling nourished and clean.' and the Smoothing Cream 'smelt amazing and left my hair feeling and look great.'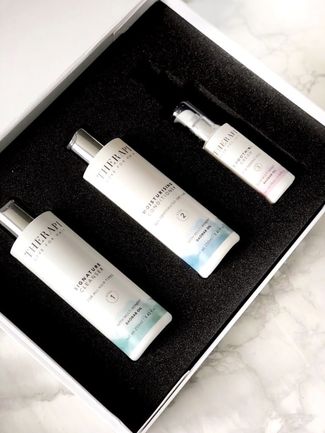 You can read the full review at the following link.