THERAPI FEATURED ON OH SO JACK BLOG
Added on 13th June 2018
Blogger, Oh So Jack, reviews THERAPI products, The Signature Cleanser, Volumising Conditioner and Matt Styler.
The blogger says The Signature Cleanser attests to what the bottle says, 'My hair felt and smelt (poet and I didn't know it) clean, fresh and great. It had a healthy shine and didn't feel coated in residue, like some other haircare products cause. The amber/honey colour was also a pleasant surprise. It was if I was using a mythic elixir.' The Volumising Conditioner 'lathered up better than I have found other conditioners to do so in the past. Following up the Signature Cleanser with the Volumising Conditioner had my hair feeling fresher and softer than ever. It held styling products better and appeared to instantly have more volume.' and lastly, the Matt Styler's 'formula works with you to create the desired style – in my case my normal style just with more body and a slightly, bed-hair-esque look. It's worth noting that while I will definitely purchase the Matt Styler, I would recommend using heavier duty products when the weather to be strong winds.'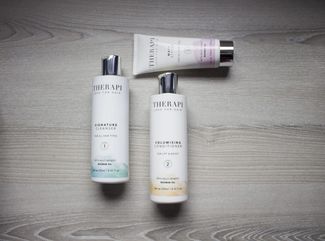 You can read the full article at the following link.