Get your hair ready for Spring!
Added on 26th March 2019
GIVE YOUR HAIR SOME 'THERAPI' THIS SPRING
The Spring season is upon us, which means it's time to get to grips with all the latest looks for this season! Katie Wardle, who is the co-founder of luxury, award-winning British hair care brand THERAPI, is sharing her top tips to make your hair sparkle.
"Whether you are heading away for the Easter holidays or staying local hoping for some Spring like weather at home, looking for an some style inspiration, playing around with different hairstyles can really add to a new look for Spring! However, before you start practising your high ponytails and pinning those buns – it's important to go back to basics and look at your haircare regime.
"Top tip number 1 – never underestimate the damage that can be done through heat exposure caused by daily blow drying and using irons, which can cause your hair to split, dry out and become super frizzy. That's why you should always use products that include extreme heat protection - look for ones that cover up to 250°C and have UV protection too – hopefully the sunnier weather is coming so we must factor in protecting our hair form UV rays!
"Top tip number 2 - use a simple, daily three step haircare regime like the THERAPI range, that's right for your hair type – so cleanse, condition and style. I'm a busy working mum of four, so I know how time-strapped most people are, but by washing your hair with quality products and booking regular trips to the salon, your hair will be healthier and more manageable in the long-run. Our products contain Colour Lock Technology – it's not a marketing gimmick, it will genuinely help extend the life of your colour.
"Top tip number 3 - it's important to understand that it's all about the ingredients. There has been an influx of so called 'salon professional' brands hitting the supermarket shelves in large bottles that seem to offer value for money, but it's important to check their ingredients. The THERAPI range contains ethically sourced Baobab Oil, extracted from the iconic Baobab Tree which is extremely nurturing for your hair. The seeds of the Baobab fruit are cold pressed and filtered, producing a light oil that moisturises, strengthens, repairs and conditions.
"Top tip number 4 – invest in great styling products – especially if you are trying to build volume. Our THERAPI volume spray is a real favourite! Mist a volume spray at the roots and invest in a good quality round brush and over direct the hair while drying to create volume at the roots. A Paraben free, leave-in volumising spray will do the rest for you, and ours also offers heat protection, so when your root lift is boosted during blow drying, it's not damaged by the heat. Now we are heading into Spring and hoping to see some sunshine the Volume spray will also protect you from the harmful UV rays which can be as dangerous to our hair as they are to our skin!
"Top tip number 5 – it's time to shine! Get your hands on the ultimate THERAPI Shimmer & Shine hair polishing spray to tame flyaway hair and smooth those dreaded split ends. The right spray will leave hair glossy and full of shine and make sure you pick one with Vitamin E for extra conditioning benefits. If you want to tame the frizz, use a smoothing cream with moisturising and anti-ageing properties. Pick an award-winning smooth operator with the latest must-have ingredients – smoothing Babassu and Guar Gum Technology – trust me they are amazing!
"And finally, don't be frightened to experiment. This season the London catwalks have been filled with hair embellishments – a statement pearl hair clip or gorgeous velvet ribbon are super stylish ways of accessorising. Or a thick, bright coloured headband is very on trend and available all over the High Street! Check out my hot picks on my @mrs.therapi page! The key to trying a new style is to keep things simple – yet make it stunning. You can give a high pony tail some sparkle by adding glittering jewels or flower kirby grips. Instead of just one ballet bun create some bold excess with four low buns or add a French plait to your bouncy ponytail. Whatever style you go for –make sure you care for your hair properly and have fun." For more information or to shop the THERAPI Hair range visit us at www.therapihair.com Free delivery on orders over £20.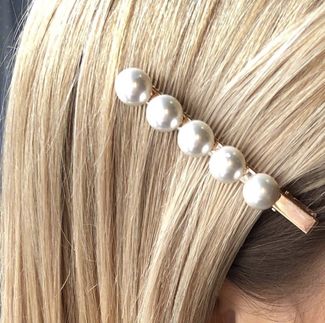 Stunning Pearl Hair Clips add a sophisticated touch to any style!