How to Protect your Hair this Summer
Added on 2nd May 2019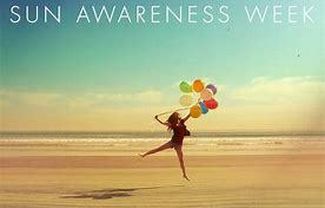 To celebrate SUN AWARENESS WEEK we are bringing some top tips from the THERAPI Hair Co-Founder, Katie Wardle, to help protect your hair over the summer months…
"While we all crave the sunshine and benefit from the Vitamin D after a long, cold Winter we need to be mindful of a few reasons why too much sun can bring about a lot of mane issues" says Katie.
Strands of hair can easily end up dry and brittle because of excessive sunshine. Add in wind exposure and you can be sure to end up with parched hair that is prone to breaking. "Using our Therapi Repairing Conditioner helps to prevent these issues and can also be used as a hair mask. After shampooing, leave on for 2-4 minutes to let the ingredients penetrate the hair or for a more pampering experience pop on a hair towel and leave for up to half an hour before rinsing off." Ensuring your hair is in good condition before the full Summer is upon us will help protect it in the long run, whether out and about at home or relaxing on a beach somewhere. By following with the THERAPI Strengthening Conditioner, a leave in product, this will help further protect your hair and with its built in UV protection it will ensure your hair is shielded from the handful rays once you've washed and dried it.
Mr Sunshine can also lighten both coloured and natural hair. Not only does colour processed hair become more vulnerable to breakage it can also lighten further when exposed to the sun even for short periods of time. "Keep your colour looking vibrant for longer by using a professional shampoo or conditioner. The THERAPI range doesn't contain any parabens or sulphates which can often be found in high street brands." With so many brands available at the moment you may be tempted to opt for the cheaper supermarket products but they don't often contain as powerful ingredients to maintain and protect colour. Katie also highlights that conditioners loaded with Silicone can make the hair feel soft and shiny but in reality this ingredient may strip the colour in the long run.
Here are some more quick tips to keep your hair in tip top condition this summer.
* Avoid washing your hair before hitting the beach
* When the weather is hot, your scalp produces more oils in order to protect both the scalp and hair strands. It's for this reason why you should refrain from shampooing your mane before you hit the beach or swimming pool. Doing so, can often contribute to your hair and scalp being excessively dry.
* Following a swim is the best time to shampoo your hair. Opt for a good quality clarifying shampoo, such as the THERAPI Signature Cleanser to remove build-up of salt, chlorine and other chemicals, it's suitable for all hair types. It's also a good idea to use an intensive conditioner afterwards to restore proper moisture to help combat dryness, split ends and breakage.


* Our THERAPI Moisture conditioner is a great product to really add moisture to your hair. Apply to washed hair and we advise combing through to the ends with a wide tooth comb or one of the Wet Detanglers from Tangle Teezer.


* Head to the Salon for a trim! During the hottest months of the year, the tips of your hair take the most beating from the sun and wind. It's exactly for this reason why you should consider getting your tresses trimmed to stop split ends in their tracks.
* Summer often sees shorter, lighter coloured more manageable styles. If you're unsure about 'the chop' make sure you opt for regular trims to help keep those split ends at bay and make your hair products work to their optimum ability.
* Accessorize the Right Way!
* There are a wide variety of fashion accessories that you may use in order to have your hair protected from the sun. One very good example is a wide-brimmed hat. It's something that looks good but is practical. Some of the most fashionable wide-brimmed hats appear during summer.

* The high street is full of vibrant hair accessories which are practical and stylish. Hair bands help keep your hair away from your face and the wide ones can help protect the finer hair about your face. If you opt to tie your hair up use something kind on the hair like the Invisibobbles which don't leave a mark in your hair and are available in a variety of fun Summer colours!
However you ensure your hair is looking and feeling it's best this summer don't forget all our styling products and our Strengthening conditioner all contain UV protection to help protect your hair, scalp and hair colour from the damaging effects of the sun. To view the full range or order your bespoke three step hair care regime visit us at www.therapihair.com or email us to find a salon near you!