Meet the THERAPI HAIR MD Katie Wardle
Added on 6th August 2019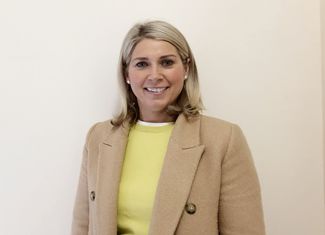 Meet the MD: Katie Wardle of Therapi Hair
Katie Wardle talks to BQ about getting hands-on, competing with bigger brands and why she doesn't like silence in her business, Therapi Hair.
What is it the company does?
We produce and sell a range of hair care products to salons and now online via www.therapihair.com
Describe your role in no more than 100 words
I like to keep my hand in all areas of the business, so working with salons to open retail accounts with us and also promoting our brand and products across social media and our web channels, as well as working on new product development. Overall a really varied role which I love and certainly keeps me busy.
Give us a brief timeline of your career so far – where did you start, how did you move on?
After graduating with a marketing degree, I spent a number of years in marketing and PR in the automotive industry and later worked for the Daily Mail doing marketing and working on its automotive website. When I met my husband, whose background is in haircare, we set up a distribution company and then launched our own haircare brand.
What do you believe makes a great leader?
In a small business we all have to help each department out, and whilst I work part-time, I'm more than prepared to get involved in all aspects from picking and packing orders, or liaising with suppliers, to posting relevant social media posts and speaking to journalists. I think anyone else who has worked in a startup environment appreciates that to keep costs down you need to be really flexible.
What has been your biggest challenge in your current position?
Raising awareness of Therapi Hair in the consumer market which is jam-packed with big-name brands that have even bigger marketing and advertising budgets. Social media is key to achieving traction with younger customers and word of mouth amongst influencers is vital. That doesn't mean that the good beauty bibles like Marie Clare, Cosmo and Good Housekeeping aren't equally important as these mags are still a staple in homes, salons and spas across the UK and they present a huge opportunity for brands like ours.
How do you alleviate the stress that comes with your job?
I'm very lucky that I don't see my job as stressful. I really do see it as a great time to be a working mum of four and running a business. We have great help with our children which means I can carry out the work I need to do and at the end of the day working for yourself can mean it's hard to switch off, but you don't have to be tied to a desk in order to make progress and move things forward. So much of what I do can be done online 'out of hours' from an iPad or an iPhone so that helps to take the stress out of deadlines.
When you were little, what did you want to be when you grew up?
I always knew I wanted to be involved in marketing and branding. I loved the idea of working for myself; I just needed to wait for the opportunity to arise – which it has done now.
Any pet hates in the workplace? What do you do about them?
Silence! I like people to work as a team and interact with each other. Working hard doesn't just mean heads down 100% of the time, it also means sharing ideas and problems and always communicating well.
Where do you see the company in five years' time?
I'd love to see more outlets selling the Therapi Hair brand and also introduce some new products to our current range. I really admire the Neom brand and business model, and if we can achieve something similar I'd be very happy.
What advice would you give to an aspiring business leader?
If you've got a dream, whatever it is, start to think seriously about how you could get it going. Start small and have clear goals and aspirations. Talk to people, introductions to other likeminded operators or other people who have been successful are a great source of knowledge, so listen to their stories. The more experience and contacts you can build up the better!
What do you wish someone had told you when you started out?
Things take time. I'm really impatient and want everything to happen straight away, but keep working hard and don't give up! You've got to start somewhere.
Keywords:
Katie Wardle, Therapi Hair, haircare products, Q&A, Meet the md, business leader, leadership