Co-Founder Katie gives her top tips for lockdown hair
Added on 24th May 2020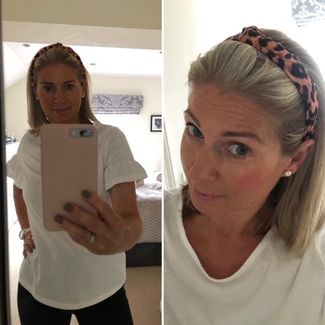 Looking after your Lockdown Locks!
We might not be back in salons until July at the earliest but it's not a reason to neglect your hair until then. In fact, hairdressers are urging their clients to take special care of their hair during lockdown to ensure it's in tip top condition for when you return to the salon for colour treatments especially. While we might not be able to get our grey roots or split ends tidied up our Co-Founder Katie Wardle has a few suggestions to keep hair looking reasonable and you feeling well, not so blue, or should we say grey…..
Therapi Hair's Top tips for looking after lockdown locks!
Conditioning shampoos and conditioners are a must during this time to give hair the nourishment it needs. All our products contain Baobab Oil which is known for its proven moisturising properties and helps to lock moisture into the hair. Putting on a treatment conditioner will help drench hair in moisture and while your roots may be showing through it will keep it from drying out and adding to your woes.
Use a weekly hair mask - Our Moisture Conditioner is great to use as a hair mask, leave on and wrap in a hair towel, such as the Therapi Hair microfibre towel available online. Leave for 3-5 minutes before rinsing off and revealing super smooth and manageable hair. Our conditioners contain Sunflower Seed extract which helps to seal in hair colour and prevent premature fading of coloured hair.
Blonde, and grey hair, often turns a brassy, yellow tone when overdue a trip to the salon. Our Brightening Cleanser is specially made for blonde and grey hair. This purple shampoo helps to banish unwanted brassy tones and works after just one wash to bring blonde and grey hair back to life, and the added Baobab Oil ensures hair is not stripped of natural oils.
If possible, avoid using heated styling tools! Natural or air drying may be more possible than the usual heat styling you may do going out to work or meeting friends. Let your hair air dry and experiment with effortless updo's or ponytails. If you're spending the day on Zoom and need to dry your hair with a hair dryer ensure you use a heat protection spray. Our Strengthening Conditioner is a leave in conditioner with heat protection, which can be used alone, or after one of our other conditioners and to add protection before heat styling.
If you're worried about your roots you could try changing your parting, which may make a dark shadow look less obvious, wear a hair band which will help cover roots or try adding hair accessories to detract from your root line! Remember we're all in this together so if all else fails wear a bright lippy to detract from your hair!
Avoid home colour dyes as you will no doubt spend more money in having colour correction and instead invest in some good quality, affordable hair care to keep your hair healthy ready for your hairdresser work their magic when they can.
Don't forget if you're outside more making the most of the lovely weather, make sure you have UV protection on your hair. The sunshine is great but, like with skin, it can cause havoc with your hair, drying it out and fading the colour. All our styling products contact UV protection so by applying one of these after you wash your hair will not only protect it from heat styling but also protect it from the harmful UV rays.
As a local, family run business we are still able to safely fulfil all orders and delivery is currently at an average of a 2 day turnaround. Visit www.therapihair.com to place your order.