Top Tips for adding Volume to your hair!
Added on 13th February 2020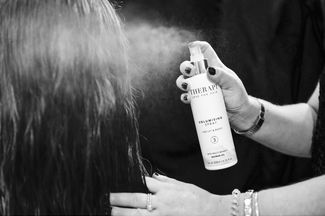 Volume! One of the most sort after hair goals of all time!
We've got short hair, we want it long. We've got curly hair we want it straight, we've got fine hair we want it thicker….ever get the impression we just want what we can't have? Well if it's volume you are after you are in luck!
Our range of 3 steps to gorgeous hair includes a Cleanser, Conditioner and Styling product and with our Volume Range of products will have you bouncy hair before you know it!
Start with Step 1 our Signature Cleanser, followed by Step 2 our Volume Conditioner and Step 3 our Volumising Spray
Here are our top 5 tips for adding volume to fine hair….
Once a week use a Clarifying Shampoo such as the Therapi Hair Signature Cleanser to help remove build up of product from your hair which contributes to weighing it down.
Blast your hair upside down with the dryer until your hair is 60% dry
At this point spritz in a volume spray such as our hero product the Therapi hair volume spray which builds volume at the roots of your hair without stickiness and protects your hair from heat damage!
Over direct any heat when drying your hair…this is when you use your brush and dryer to change the direction of the way the hair usually falls, aiming the heat at the roots which in turn dries the roots first and then adds instant lift and boost!
Gently back comb the crown of your hair to give some staying power to the volume you have created while drying your hair.
What not try the Gift of Volume a value pack for create gorgeous bouncy hair for £29.95 with an individual retail value of over £43 or take advantage of our extra special offer of a FREE 1000ml Conditioner with any 1000ml Cleanser purchase? While stocks last offer ends 28th February 2020.